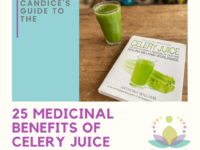 Celery, the vegetable that most of us could have happily lived without, has actually been hiding some fascinating medicinal benefits.  Anthony William, shares all in his book Celery Juice – the most powerful medicine of our time.
Get in Touch
Reach out today to schedule an appointment or a complimentary 20 minute phone consultation

Let's Stay in Contact
Sign up to my mailing list for occasional updates, special offers, news and helpful tips on how to stay healthy and well modern times.